Prescott Publishing is pleased to announce a new book from Jennifer Flanders called Balance: The Art of Minding What Matters Most.
Although the official release date is not until Black Friday (November 27), you can pre-order either the e-book or the paperback now from Amazon — and there are some really good advantages to doing just that!
The top four benefits to pre-ordering BALANCE: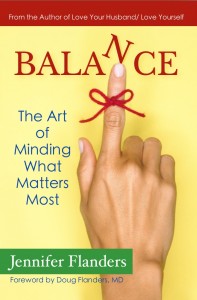 You will earn all sorts of free bonuses when you order before the release date. (Scroll down for a complete list.)
It will be one less thing to remember in the craziness that often accompanies Thanksgiving weekend.
Pre-orders make a huge difference. The higher my Amazon ranking is on the day the book launches, the more likely bookstores will be to actually stock the book on their shelves.
You can knock out some of your Christmas shopping early.
BALANCE offers Biblical guidelines and practical suggestions for taming your schedule, identifying your highest priorities, setting attainable goals, investing your resources of time and energy wisely, and focusing your attention on the things that matter most.
This book is for anybody who …
[read the rest of the article at Prescott Publishing]